Corporate, Commercial / M&A
The lawyers at Stoeva Tchompalov & Znepolski combine technical expertise with commercial insight to deliver a full spectrum of bespoke services to clients of all sizes.
Our experience has seen us work with clients that range from start-up businesses through to established public and private companies, foreign multinationals, and their Bulgarian subsidiaries.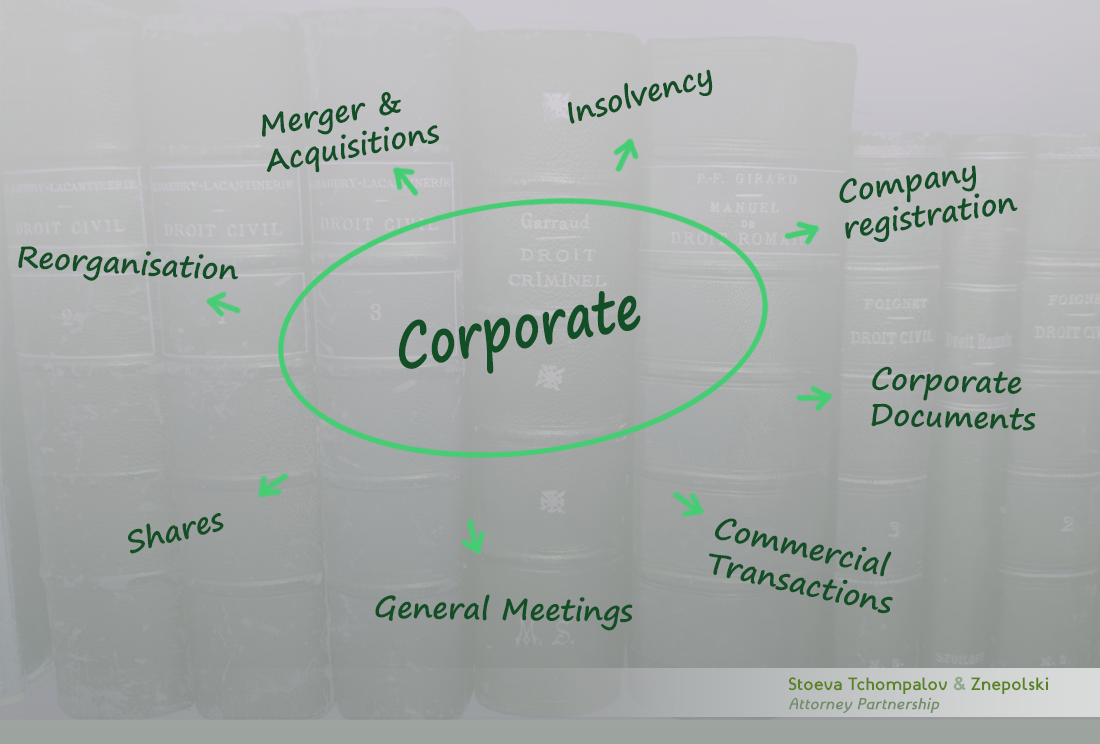 Stoeva Tchompalov & Znepolski also advise companies on the vast array of commercial matters which may affect their business. Good service is at the heart of what we do, as is ensuring we have a thorough understanding of your organisation and its objectives.
We undertake the full range of corporate and corporate finance work including mergers and acquisitions, private equity and other fund raisings, share buy-backs. We also handle company formations, re-organisations and re-structuring, joint ventures, shareholder and investment agreements. And we're here to help you manage general meetings, the appointment and removal of directors, dividend payments and advise on general company law compliance and corporate governance.
Our commercial lawyers work in partnership with you, tailoring the level of support to your business. The firm provides expertise in not only writing a contract but in understanding the importance of bargaining strength, the commercial drivers of the business and the tactics to be employed. We ensure that all contracts are clear and unambiguous, suitable for the purpose, compliant with the law and water-tight to protect you from commercial risks.
We work hard to understand your company and your priorities so we can provide an individual approach to the legal issues affecting your business. We will provide you with prompt, straightforward support and work closely with you and your team, including other advisers.
We also specialise in resolving commercial disputes for international and regional clients. We can advise on the strength of your case and, if necessary, our team can assist with the resolution.
A recent highlight of our M&A practice is our assistance to Morrison & Foerster (London) as a local counsel, advising on Bulgarian law matters Eurohold in its EUR 335 million acquisition of CEZ's Bulgarian assets and the resulting Eurohold's mandatory tender offers addressed to the shareholders in the listed target companies.
As part of a larger business restructuring in CEE countries, STZ assisted Covington and Burling (London) on the liquidation of the GlaxoSmithKline subsidiary in Bulgaria and the Bulgarian aspects of the change of the GSK commercial model to distributorship.
Over the years our lawyers have advised various clients on:
ensuring compliance with their statutory duties;
company incorporations;
company name changes, dealing with structural changes to a company (for instance, increase and decrease of capital, constitutional changes, change of directors), filing of documents at Bulgarian commercial register (either paper-based or electronically);
compilation of board packs, including the circulation of a notice or agenda to directors, attendance at board meetings and taking minutes;
convocation and chairing of general meetings of shareholders;
legal and regulatory corporate governance and disclosure-related obligations;
reviewing, assessing and updating governance materials (including board committee charters, director and officer questionnaires, corporate codes of conduct, compliance policies and procedure manuals);
advising on the composition of boards of directors and board committees, with a focus on director independence and audit committee qualifications;
counseling clients on their relationships with auditors and questions relating to auditor independence;
liquidation of companies.
Our team has advised both purchasers and suppliers on a wide range of supply and purchase arrangements, which are critical to the success of our clients' businesses.
We have also advised clients on a wide variety of commercial agreements, ranging from agency and distribution arrangements to franchising, advertising and marketing, supply of goods and services, and all aspects of trading law.
About the team: "We highly appreciate their personal approach to the clients. We consider team's strengths are its flexibility, access to services, and out-of-the-box advice. They cover a wide range of problems in the fields of commercial, corporate, and M&A law. Their advice is always result-oriented, flexible and aiming to meet clients' practical needs" (Legal 500).
MAIN CONTACTS
IORDAN TCHOMPALOV
Partner
Tel:
+359 (2) 954 6106
Email:
Iordan.tchompalov@stzlaw.eu
View Profile
IRINA STOEVA
Partner
Tel: +359 (2) 954 6106
Email: irina.stoeva@stzlaw.eu
View Profile
"Irina Stoeva – remarkable scope of knowledge and experience in corporate and commercial law. Successfully advises on complex and time-critical legal issues" (Legal 500).

"Iordan Tchompalov – distinguished practitioner with communication skills and very good tactical approach to dealing with tough situations" (Legal 500).