Litigation & Dispute Resolution
We, at Stoeva, Tchompalov & Znepolski, pride ourselves on constantly giving you the litigation advice you really need. Our litigation team is comprised of skilled trial attorneys who have achieved excellent results for clients in trials, arbitrations, and appellate proceedings.
We love trying cases and our opponents know we aren't afraid to take a case to trial. But trials can be expensive and long-lasting, and we view them as only one tool in the dispute resolution toolkit to be used when an acceptable resolution is unattainable by other means. Where possible, we endeavor to resolve the matter through negotiation or by using available alternatives such as arbitration and mediation.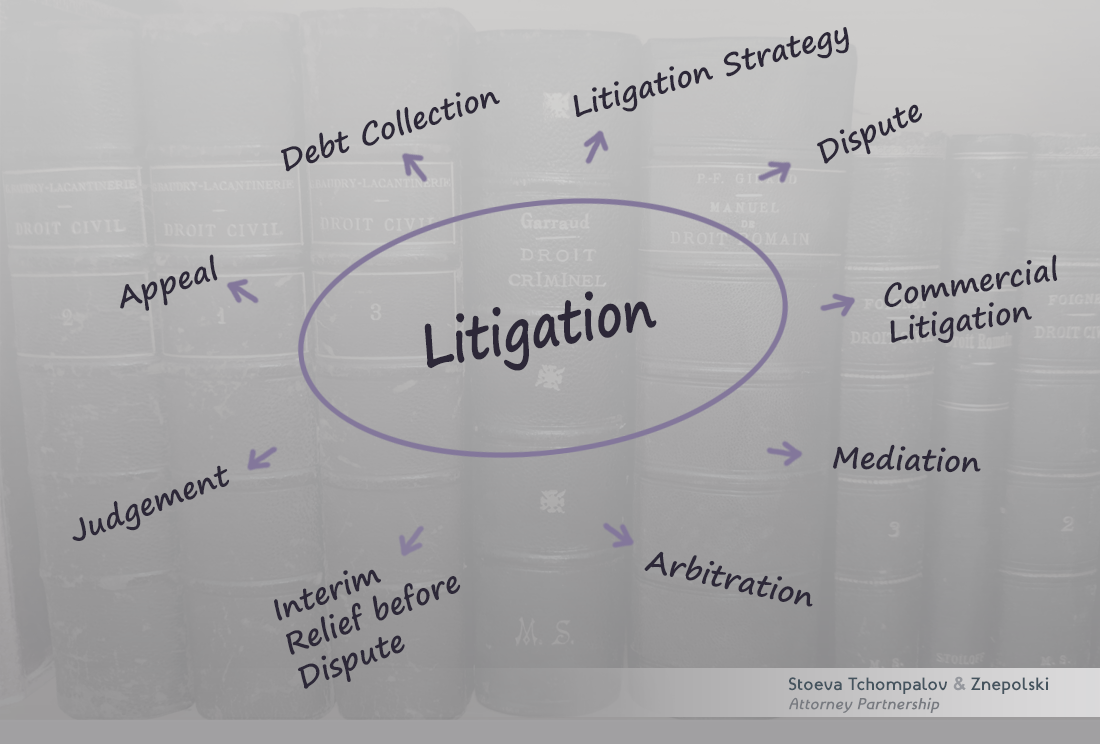 We are seeking creative and aggressive means to achieve successful results for clients at the earliest possible stage. Our approach to dispute resolution is above all focused on achieving the best possible result for the client taking into account both the outcome achieved and the cost incurred to arrive at that outcome.
We represent clients ranging from large and middle-market companies to startups and individuals in trial and appellate courts, administrative agencies, and alternative dispute resolution matters.
Our litigation lawyers have been often engaged to represent a variety of clients in complex insurance cases and motor vehicle accident claims. As experts in complex personal injury, property damage, professional liability, insurance fraud, cross-border, and other insurance claims, our team of trial lawyers offers our clients unsurpassed legal representation. Our other litigation experience lies in dealing with claims in a wide variety of areas including:
corporate, commercial, and civil disputes;
non-performance of contracts;
tort, including medical professional negligence;
administrative disputes related to various licensing, registration, and other regulatory regimes and acts;
appealing administrative penalties and coercive measures imposed by the regulator against investment firms, management companies, listed companies, insurers and insurance brokers and their directors and shareholders;
employment disputes;
insolvency disputes;
debt recovery.
When facing considerable and potentially critical problems, whether in the context of your business or your personal affairs, the key to successful dispute resolution is an accurate assessment of the merits of your position, and then the implementation of an effective strategy based on a realistic budget.
When a dispute arises, we have found that our clients prefer an early and objective evaluation that allows them to decide when to litigate and when to explore alternatives to litigation. We promptly provide budgets of anticipated legal fees and costs and we are willing to discuss non-hourly fee arrangements. At each significant stage, we explain case options with the goal of listening to our clients' desires and seeking to achieve them as expeditiously and economically as possible.
Some of the experience of our trial lawyers comprises:
representing four renewable energy sources (RES) production enterprises for suffering continuous losses as a result of amendments in the Bulgarian RES legislation that contradicts, in our view, to EU law.
representation before the court of the largest Bulgarian insurance broker with respect to its claim addressed to Competition Protection Commission to prohibit an unfair competition marketing campaign of a competitor.
advising a client on a dispute with the Bulgarian Food Safety Agency with respect to the maximum level of vitamin D in a food supplement marketed in Bulgaria.
representation of a client against a Polish insurer before the Bulgarian court for compensation of injury in a road accident that occurred in Germany and due to which the claimant is with 100% disability.
representing an Italian company in its EUR 3.7 million claim for unpaid remuneration under a consortium agreement;
bringing the first case against a maternity hospital in Sofia for the fell through of ten pregnant women within a hospital elevator in March 2010; this case went through 3 court instances and ended successfully for our client, one of the ten pregnant women, with awarded damages. The rest of the injured women have taken advantage of the final Supreme Cassation Court decision under our case;
representing, through Kane Tuohy Solicitors, Ireland, of a client in relation to cross-border insolvency under the EU laws;
representing Bulgarian corporate in its successful claim for insurance damages amounting to EUR 590 thousand;
acting as local counsel to DWF LLP, to a case before an English court concerning insurance damages claims;
acting for the appellant in a EUR 3 million public procurement successful court appeal against the Bulgarian Ministry of Finance;
defending a major Bulgarian insurer in a number of claims, among others a carrier's liability insurance claim and insurance fraud-related claims amounting to over EUR 1.5 million and EUR 750 thousand;
acting on behalf of numerous insured persons in their claims against insurance companies concerning rejections for payment of compensations under Motorists Third Party Liability and motor vehicles insurances;
successfully acting for an investment firm in its court appeal against the Bulgarian Financial Supervision Commission's decision for revocation of its license;
successfully representing an Austrian citizen in a court appeal of a penalty imposed on him by the Bulgarian Financial Supervision Commission for alleged market manipulation;
representing the Bulgarian subsidiary of a reputable US television production and broadcasting group in relation to receivables collection from local cable operators;
acting for a non-Bulgarian pharmaceutical company in a dispute for damages arising from a clinical trial.