Healthcare & Pharma Law
Healthcare providers and pharmaceutical companies across need to deliver services in an increasingly complex landscape of scrutiny by regulators and service users.
Fundamentally any such services need to be safe, whilst also adhering to an array of regulations – both in terms of quality of care and financial viability – in order to protect and promote good care, alongside organizational reputation, within a highly competitive environment.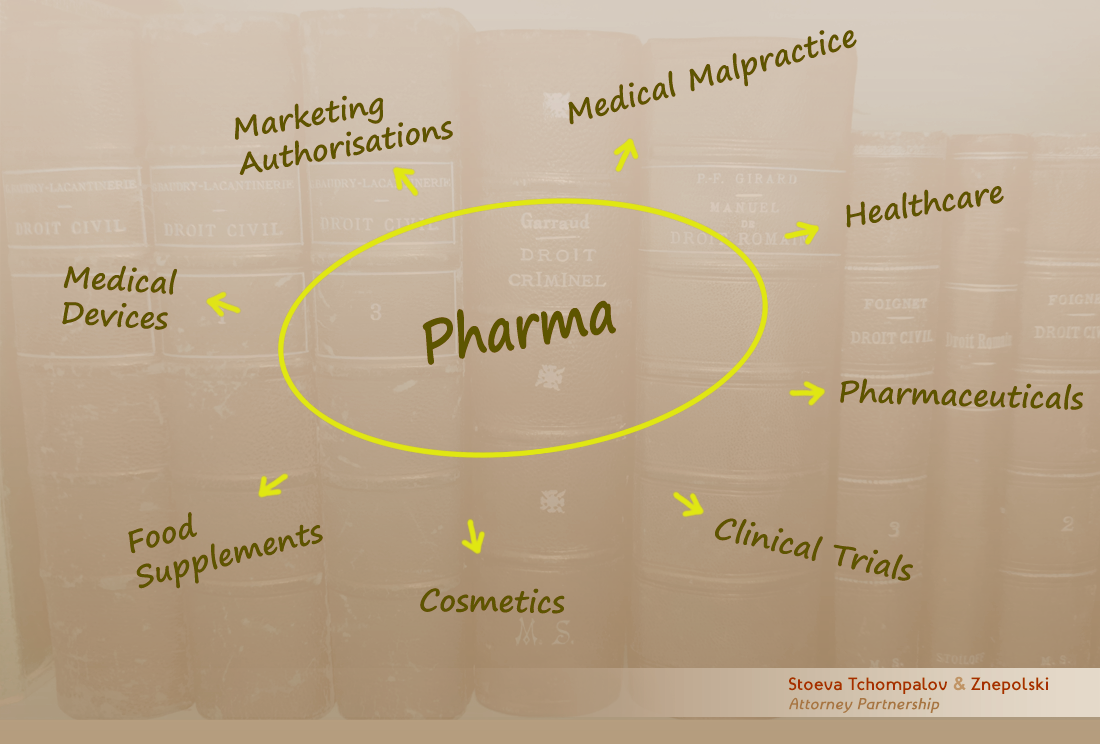 Healthcare and pharmaceutical are among the most regulated, fastest-paced industries operating in ever-changed legislation. At the heart of healthcare and pharma business that can withstand the unrelenting pressures of risk, regulatory compliance, reputational damage and strict ethical considerations, lies a well-planned, robust and sustainable clinical governance and quality agenda. Clinical errors may also be intertwined with a range of regulatory risks which demand expert knowledge to manage and prepare a comprehensive strategy in the approach to potential disciplinary procedures, coroner's inquests, criminal prosecutions and public inquiries.
The lawyers at Stoeva Tchompalov & Znepolski has earned reputation for representing healthcare and pharmaceutical clients in litigation, competition, transactional, operational, legislative and regulatory matters. We counsel clients in a manner that ensures their compliance with current and anticipated statutes and regulations, while at the same time remaining sensitive to clients' business realities and constituent concerns. We are also providing advice and support throughout the full dispute resolution process and beyond.
Our clients reflect the diversity of the industry as a whole: pharmaceutical producers, distributors and pharmacists, insurers, healthcare practitioners and other involved organisations and entities. We believe our expertise, diversity and sophisticated knowledge of the healthcare and pharmaceutical industry makes Stoeva Tchompalov & Znepolski the right choice for legal representation.
A few highlights of our lawyers' experience in Healthcare and Pharmaceutical include:
advised, from a Bulgarian law perspective, the transition of the medical and promotional activities to GlaxoSmithKline in Bulgaria, as well as of the warehousing and the customer services operations to new partners;
advised EU Pharmacia Bulgaria on regulatory issues related to the registration of a food supplement with the Bulgarian Food Safety Agency;
advised a client on dispute with Bulgarian Food Safety Agency with respect to maximum level of vitamin D in a food supplement marketed in Bulgaria;
representing an international healthcare company in public procurement procedures for the delivery of vaccines awarded by the Bulgarian Ministry of Health;
advising a UK healthcare company as a local Bulgarian counsel (Slaughter & May, London being the head legal counsel) with respect to a complex transaction including the acquisition of a global pharmaceutical company's global vaccines business, transfer of the UK company's oncology business to the global company and both companies combined their consumer health care business in a new venture;
acting for a non-Bulgarian pharmaceutical company in a dispute for damages arising from a clinical trial;
advising Sofia Pharmacists Professional Organisation on various matters since its establishment in 2007.