Real Estate
Regardless it is a personal or major investment acquisition or disposal, or a leasing relationship matter, you'll need pragmatic and commercially focused legal advice.
2021 was a record year so far for real estate market in Bulgaria for the last 12 years. There was a 20% increase in the real estate transactions in the third quarter of 2021, when compared with the same quarter of 2020, according to the Bulgarian Registry Agency. The increasingly active real estate market and its stable growth in Bulgaria requires a broad range of legal services covering the entire life of a real estate project – from the title due diligence, negotiating and drafting transaction documents, project finance to exit strategies. Our lawyers will guide you and assist you through the legal process regardless it is related to the acquisition or disposal of property, donation, lease agreement, or real estate finance.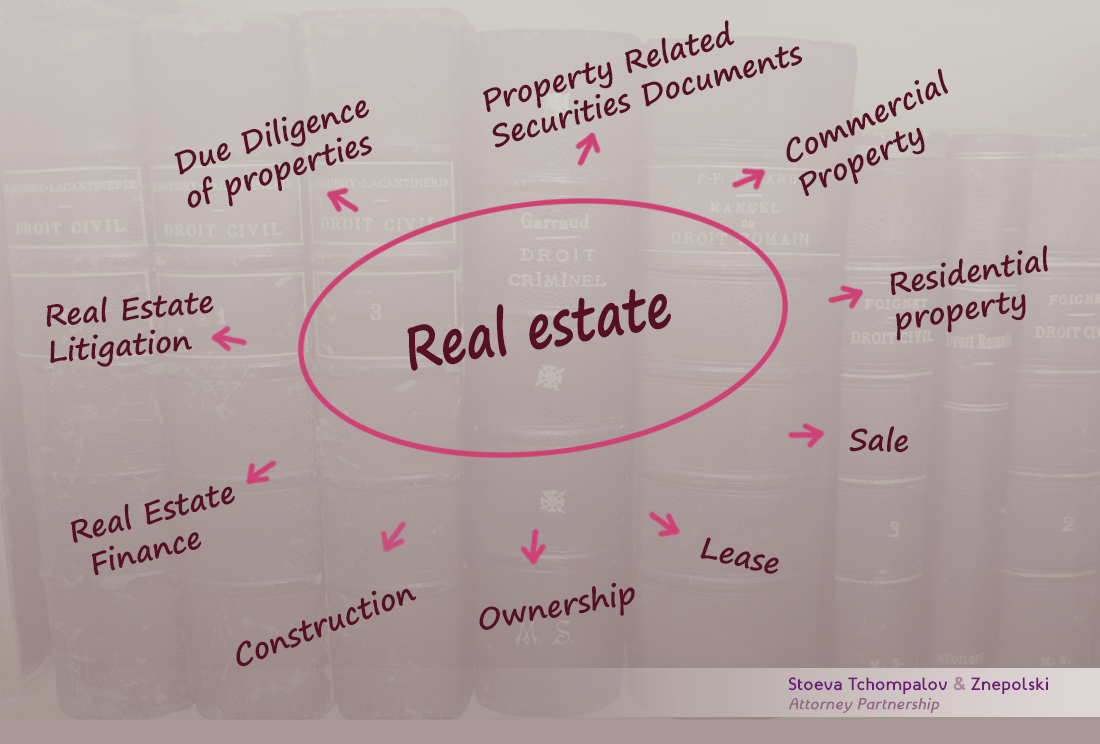 Residential and commercial transactions present significant financial exposure and they require skilled legal advice for mitigating the property related risks.
Our team advises small and medium businesses when need support on their construction projects or investments, as well as we help families and individuals when selling or purchasing a residential property. We have a proactive and collaborative approach with lenders to ensure our borrower clients will satisfy the lending policy requirements and the finance is properly secured and ensured without delay.
We have extensive experience in landlord and tenant matters, including helping to resolve any disputes that may arise.
We have technical expertise in every field of residential and commercial real estate offering end-to-end support to a wide variety of corporate and individual clients. Our team has assisted domestic and cross-border property transactions, real estate financing, construction projects, in a vast array of industry sectors.
Our full range of property legal services include:
Title due diligence;
Acquisition and Disposals of residential/office/commercial property and lands;
Real Estate Finance and Funding;
Regulatory;
Lease agreements;
Landlords and tenants litigation;
Property and construction dispute resolution;
Property aspects of joint ventures and shareholders agreement.