Employment Law
The increasing workforce mobility, outsourcing and other business developments have added to the complexity of the employment landscape. Getting the right people in the right roles in the right locations, appropriately incentivised and supported, while, at the same time, protecting the organisation and its assets has never been more challenging.
Effective employment advice demands a coordinated response, built on effective communication before, during and after any issue or claim. That's where we can help: our employment law experts deliver informed, practical and pragmatic advice across the full range of contentious and non-contentious employment issues.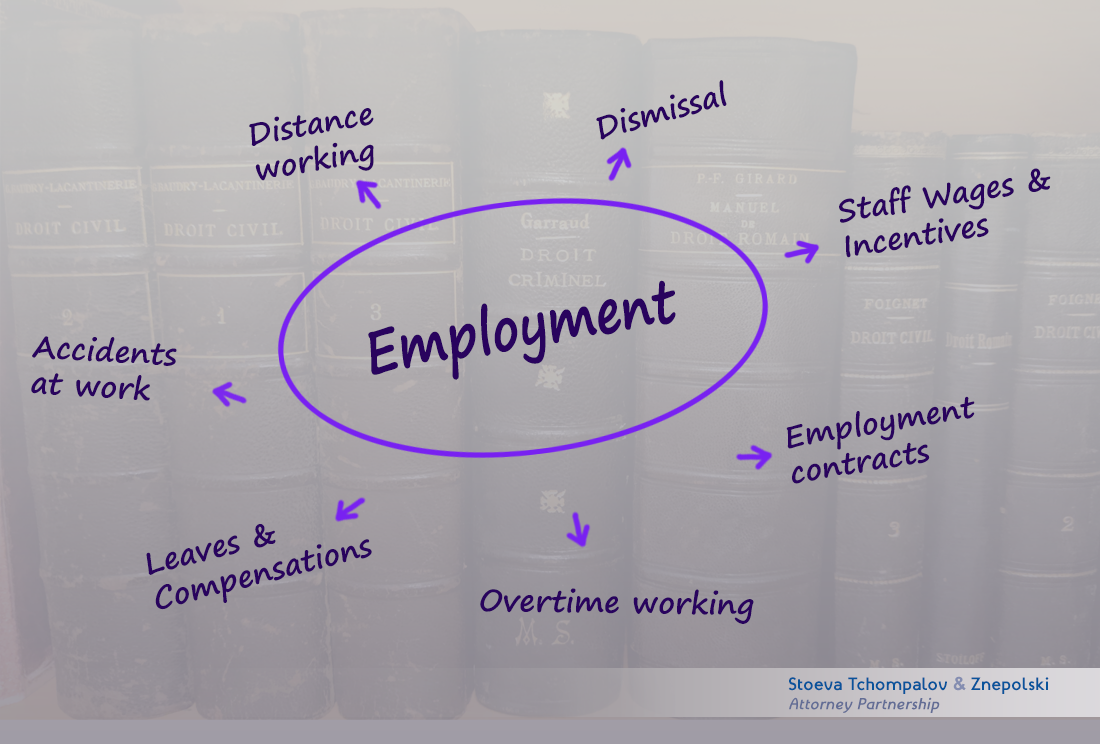 We act for employers and employees, so we see both sides of workplace issues. Our lawyers have often been told we're approachable and responsive, and that we provide solutions based on our clients' objectives, as well as their approach to risk and employee engagement.
The employment lawyers at Stoeva Tchompalov & Znepolski provide day‐to‐day counseling and advice regarding all legal matters affecting the employment relationship. We have experience advising on complex and often highly sensitive matters at all stage of the employment life cycle:
drafting management, employment, and other contracts and advising on incentive arrangements at recruitment;
drafting work rules and other internal regulations;
company restructuring and application of the Acquired Rights Directive
employees layoffs and mass dismissal;
managing risk in handling employee discipline issues and negotiating settlement agreements;
employment law disputes with employees and executives;
whistleblowing;
internal investigation of employees' unlawful acts;
With our in-depth knowledge of HR issues and our wide litigation experience, we can review your internal policies, manage risks and ensure that you comply with regulations.
When an employment dispute arises, we work with clients to evaluate cost-effective litigation strategies and any available alternatives to litigation. Our attorneys regularly appear at the trial and appellate court levels, as well as administrative agencies. We have expertise defending claims of wrongful discharge and workplace tort claims, discrimination, failure to accommodate, and defamation. Likewise, we regularly handle claims involving breach of contract, misappropriation of funds, and non‐competition agreements.
Our lawyers have advised corporate clients on a vast range of legal and practical issues arising out of the employment or engagement of employees, directors and contractors, including pay and minimum wage, recruitment and screening, benefit and bonus schemes, misconduct, sickness, appropriate sanctions, flexible working, maternity, paternity and family rights, bringing and defending a claim.
Our lawyers have reviewed, drafted, and negotiated employment contracts and service agreements for both employers and employees. We have advised companies on a vast range of employment law compliance and human resources issues, including protection of their confidential information and preventing staff and former members of staff misusing that information.
We have vast experience in assisting and supporting employers faced with internal disciplinary or performance improvement procedures, in successfully representing employers in disputes arising out of individual and collective redundancy processes, as well as successfully defending employers from dismissal claims.