Administrative Law & Regulatory
In today's increasingly regulated environment, awareness of regulatory obligations is essential to reduce exposure to risk and preserve commercial reputation.
We recognise that, as well as these external threats, you must comply with money-laundering regulations which can hamper your ability to secure and service new clients. In the critical areas of health and safety, financial services and insurance, transport, the environment, a high level of awareness and preparation is needed to avoid potentially heavy penalties.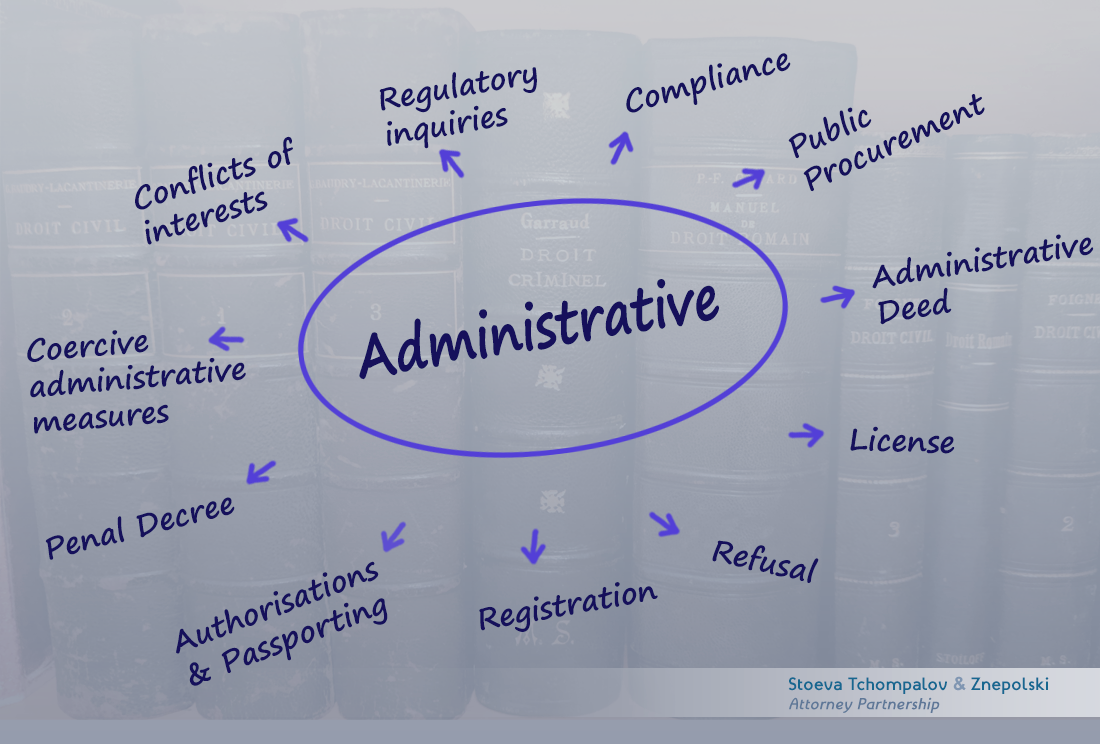 The correct response to troubling government regulatory actions will vary. Though judicial review is the main legal process used to hold public bodies to account and contest wrong decisions, sometimes the best approach involves further proceedings before the relevant regulator. In either case, a thorough understanding of the principles governing regulator's conduct is essential. Stoeva Tchompalov & Znepolski's lawyers are well-versed in these principles and specialize in representing clients in this area.
The firm provides advice and assistance on regulatory and compliance issues, including both contentious and non-contentious matters. We have extensive experience of dealing with as well as working for regulators (including the Bulgarian Financial Supervision Commission), and we'll guide you through the regulatory process. We have a deep knowledge of the insurance professionals and asset and fund management sectors and advise industry and trade bodies as well as commercial clients.
We adopt a pragmatic, commercial and clear approach to cut through the complexity of regulation across sectors including insurance/reinsurance and financial services, healthcare and transport.
Our advice addresses how evolving legislation, regulation and market frameworks affect existing businesses. We also advise on the development of new products and services and the establishment of new financial services businesses (including advice on authorisations and passporting into and from other EU jurisdictions). Other issues we advise include anti-money laundering, insurance, conduct of business, customer documentation, e-commerce and advertising and marketing regulation.
We can help clients respond to regulatory investigations and interventions when the continued operation or reputation of the individual or the business is at stake.
Our lawyers have drawn on broad experience and real expertise to advise regulated entities, companies, senior executives and directors on a large variety of this work, including:
anti-money laundering procedures;
authorisation of insurers, insurance intermediaries, financial services providers and collective investment schemes;
conflicts and disclosure of interests;
corporate governance;
compliance handbooks;
disciplinary proceedings;
new legal and regulatory developments;
industry guidelines and codes of conduct;
insurance business transfers;
regulatory inquiries;
regulation of insurance products;
regulatory approval of business, portfolio and share transfers;
reporting and disclosure requirements;
licensing of regulated activities;
solvency and financial requirements.
Stoeva Tchompalov & Znepolski provides high quality specialist legal advice on judicial review and other administrative law remedies. Our lawyers have regularly represented clients in formal and informal enforcement actions before regulators and administrative courts. In these and countless other regulatory matters, our deep familiarity with the administrative law and process, and the capabilities of our litigation lawyers, are highly effective.