Banking, Capital Markets & Finance
We have an in-depth understanding of the investment industry and also of how regulators think - although we do not always agree with them. Our lawyers have earned a reputation for innovation and quality, advising over the years on a number of market firsts and other landmark transactions in Bulgaria.
The continued work of Iordan Tchompalov and Natalia Yordanova for the Bulgarian securities regulator and their follow-up attorney practice results in a detailed knowledge of the workings of the financial markets, enabling us to bring greater insight to the transactions on which we advise.
Iordan Tchompalov was instrumental in the drafting and development of the Bulgarian Public Offering of Securities Act of 1999 and has also played a key role in establishing the Bulgarian modern capital markets legal framework. He has also advised on many of the highest profile debt and equity transactions in the Bulgarian market.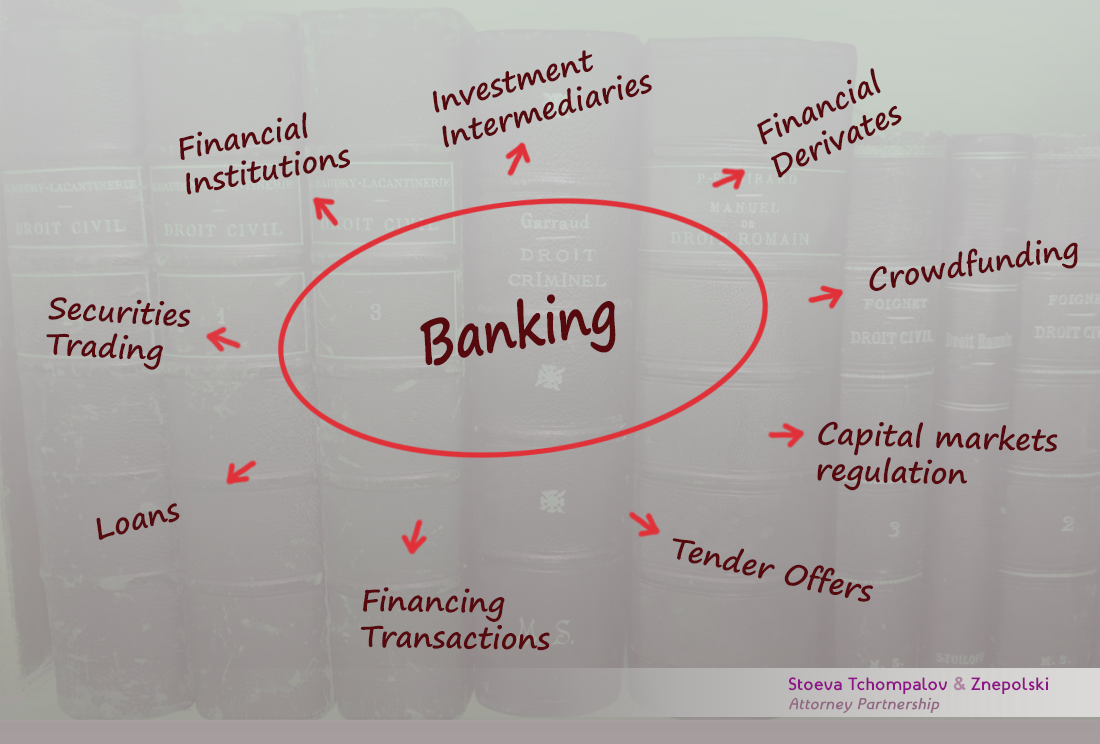 Our lawyers have been widely praised for our responsive approach, which combines with a distinctly practical and commercial attitude. The breadth of work in our balanced practice ensures that we are in the vanguard of developments in Bulgarian securities laws.
Stoeva Tchompalov & Znepolski's lawyers have extensive experience of the fundraising process, financial services, investment funds and in advising listed companies on day-to-day corporate law and governance matters.
Our lawyers have acted over the years for both issuers and underwriters in a wide variety of debt and equity offerings and listings, including IPOs, secondary offerings, and convertible and exchangeable bond issues (also as local counsel to international law firms in relation to Rule 144A and Regulation S offerings, high-yield debt, EMTN programs, global depositary receipt (GDR) offerings). Our transactions further span loan commitments, acquisition financings, going-private transactions, refinancing, bridge lending, and amending existing banking arrangements.
Some of the other areas we specialise in include: financing transactions, tender offers, and takeover bids; investment management; establishment of investment fund vehicles; market abuse; market conduct issues; securities trading, clearance and settlement matters; regulatory capital requirements; and a broad range of domestic regulatory, compliance and enforcement issues.
In their legal practice, Iordan Tchompalov and Natalia Yordanova have regularly advised quoted companies, REITs, banks, borrowers, investors, investment firms, and asset management companies in relation to those core areas.
Some of the banking and capital markets transactional and litigation work our lawyers have been involved in, comprise:
advised Eurohold group as local counsel on the financing phase of the acquisition of CEZ Bulgaria, which comprises EUR 360 million senior facility agreement and EUR 110 PIK facility agreement.
advised a Bulgarian corporate (as borrower) on the EUR 70 million German law governed Promissory Loan (Schuldschein) and on the EUR 70 million Pass-Through Notes due May 2026 Series 2021-01 linked to the Schuldschein
advised from Bulgarian perspective PLN 45 million notes to bonds swap transaction entered between among others, MCI Capital (Poland), Eurohold Bulgaria AD and Euroins Romania Asigurare Reasigurare SA.
EUR 400 million senior secured notes issued by Bulgarian Telecommunications Company EAD;
EUR 36 million convertible bonds issued by Central Cooperative Bank (Bulgaria) and qualifying as a second-tier regulatory capital;
USD 125 million loan participation notes issued by a Dutch SPV for the purpose to on-lend the proceeds to a Bulgarian bank. EUR 22 million convertible loan with PIK interest executed by a Swiss company (as a borrower);
dual listing of one of the Bulgarian leading pharmaceutical firms Sopharma AD in Warsaw.
the Pass-Through Notes issued by an Irish entity linked to bonds exchangeable for the shares of a Bulgarian corporate.
The €70 million 7% unsecured convertible bonds issued by the major shareholder of the largest Bulgarian holding company and registered with the international clearing systems Euroclear Bank S.A./N.V. and Clearstream Banking, societe anonyme;
the 9% 90,000,000 mandatory convertible preferred non-voting shares of Chimimport AD;
the €65 million 4.5% secured exchangeable bonds issued by a wholly-owned Dutch subsidiary of a Bulgarian corporate;
the IPO of TechnomarketDomo N.V., the Netherlands, a leading consumer electronics wholesale and retail group in Bulgaria and Romania, being the first dual listing and cross-border settlement project in Bulgaria;
the First Investment Bank's €90 million IPO and listing on the Bulgarian Stock Exchange, the first Bulgarian combined offering of new and existing shares;
the Petrol AD €100,000,000 8.375 per cent. 5 years eurobond; the first Bulgarian IPO, comprising a global offer to international investors: the Bulgarian American Enterprise Fund's sale of 30% of the Bulgarian American Credit Bank;
the first Bulgarian project of sponsored GDR listed at the London Stock Exchange: ordinary shares of the leading fuel distributor in Bulgaria Petrol AD combined with a right issue;
successfully representing an Austrian citizen in a court appeal of a penalty imposed to him by the Bulgarian Financial Supervision Commission for alleged market manipulation;
representing regulated entities, including the debt issuers, investment firms and REITs in more than 100 court cases vs the Bulgarian Financial Supervision Commission related to various capital market disputes, including infringement of disclosure requirements and MIFID rules and market abuse;
The name partner Iordan Tchompalov has been rated through Legal 500 directory for more than five consecutive years as a leading individual under the category "Bulgaria: Capital Markets". The directory recognizes Iordan as: "simply brilliant" and that he "works round the clock to get problems resolved, and provides clever solutions to complex issues" (2016), and "'likes to be personally present and involved in the details of the task at hand'" (2017).
MAIN CONTACTS
IORDAN TCHOMPALOV
Partner
Tel: +359 (2) 954 6106
Email: Iordan.tchompalov@stzlaw.eu
View Profile
Chambers and Partners Europe directory ranks Iordan as a notable practitioner in Banking & Finance for Bulgaria, described by commentators as "very patient, calm under fire and super responsive" and endorsing his "superb reputation for advising on takeover bids, securities offerings and cross-border financing matters" (2017).